Multicultural Concert at Chelsea First UMC
January 16, 2022 @ 4:30 pm
EST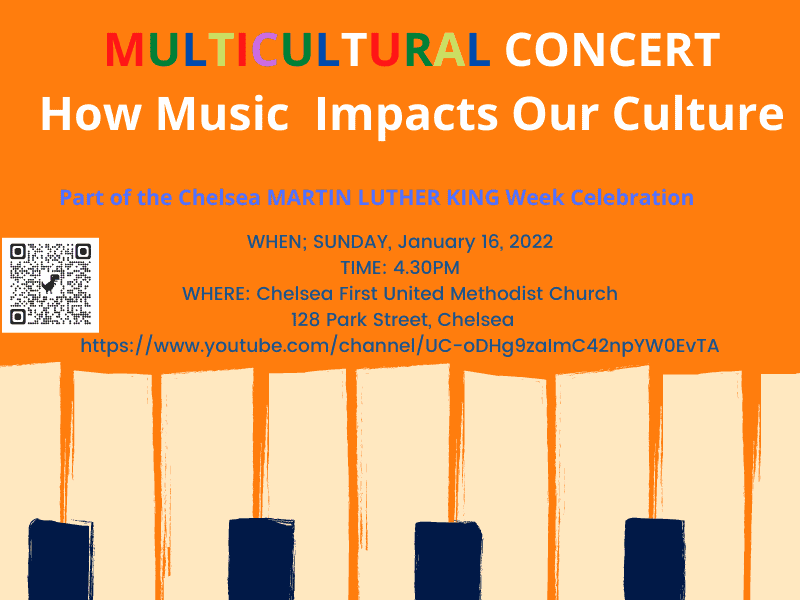 MLK Jr. Day 2022: Event details may change. Contact ChelseaUMC.org. for the most up-to-date information, especially if you are planning to attend in-person.
Multicultural Concert, 4:30 pm at Chelsea First
"Culture takes on many forms. We are focusing on how music, race, and the arts have helped shape the culture of our country over the last 100 years. The concert is offering a variety of local artists featuring Big Band, Jazz, British Invasion, Bluegrass, Broadway, and Soul."
This concert will be livestreamed on the church YouTube channel. https://www.youtube.com/channel/UC-oDHg9zaImC42npYW0EvTA
Following this concert, we will have 3 speaker events on these dates:
January 30 – "Stigma and Building Resilience" Mental Health
February 13 – "Warrior Lawyers: Defenders of Sacred Justice"
February 17 – "Justice for our Neighbors".
All events will be livestreamed on the church YouTube channel. Check the church website under engage, events for all of the information. If you are attending in person, masks are required.